Practice your French in our engaging groups for all levels
Social Conversation Groups
Practice your French with other French speakers in our weekly conversation groups. We run a series of small groups to practice your French, in various locations around London and online.
We have groups for all levels of French speaker, from rusty intermediate upwards. Not sure which is the right level for you? Contact us and we'll help you find your perfect conversation group!
Sessions for All Abilities You know the basics but struggle to have a spontaneous conversation, or don't feel comfortable in a group of French speakers If you can converse in French and want to improve and build your confidence, join our intermediate groups If you can chat and discuss in French without hesitation, our advanced groups are for you You fluently speak French but you want to practice more, with the support of a native tutor to help you refine your skills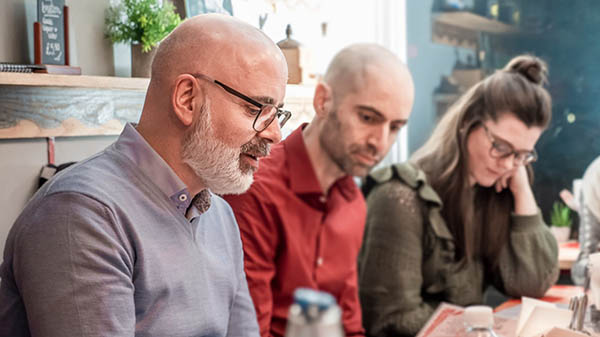 Structured and Unstructured Groups
We have two formats for conversation – structured and unstructured.
In structured groups we start with a text, news story or other cultural topic to discuss, taking it in turns to read a paragraph from the text and then discussing it in the group. 
In our unstructured groups anything goes! We talk about anything and everything in a relaxed and laid-back environment.
Join us in person at a variety of locations around London for relaxed and social sessions
Too busy to go out? Join us for one of our online conversation sessions from the comfort of your own home Join us on Meetup.com to sign up to our regular public events and experiences, and be the first to hear about new dates. All public events take place in French.
Book a Private Experience Book an experience for your group or design your perfect French day. Ideal for parties, education, corporate and individuals. May be booked in English or French.